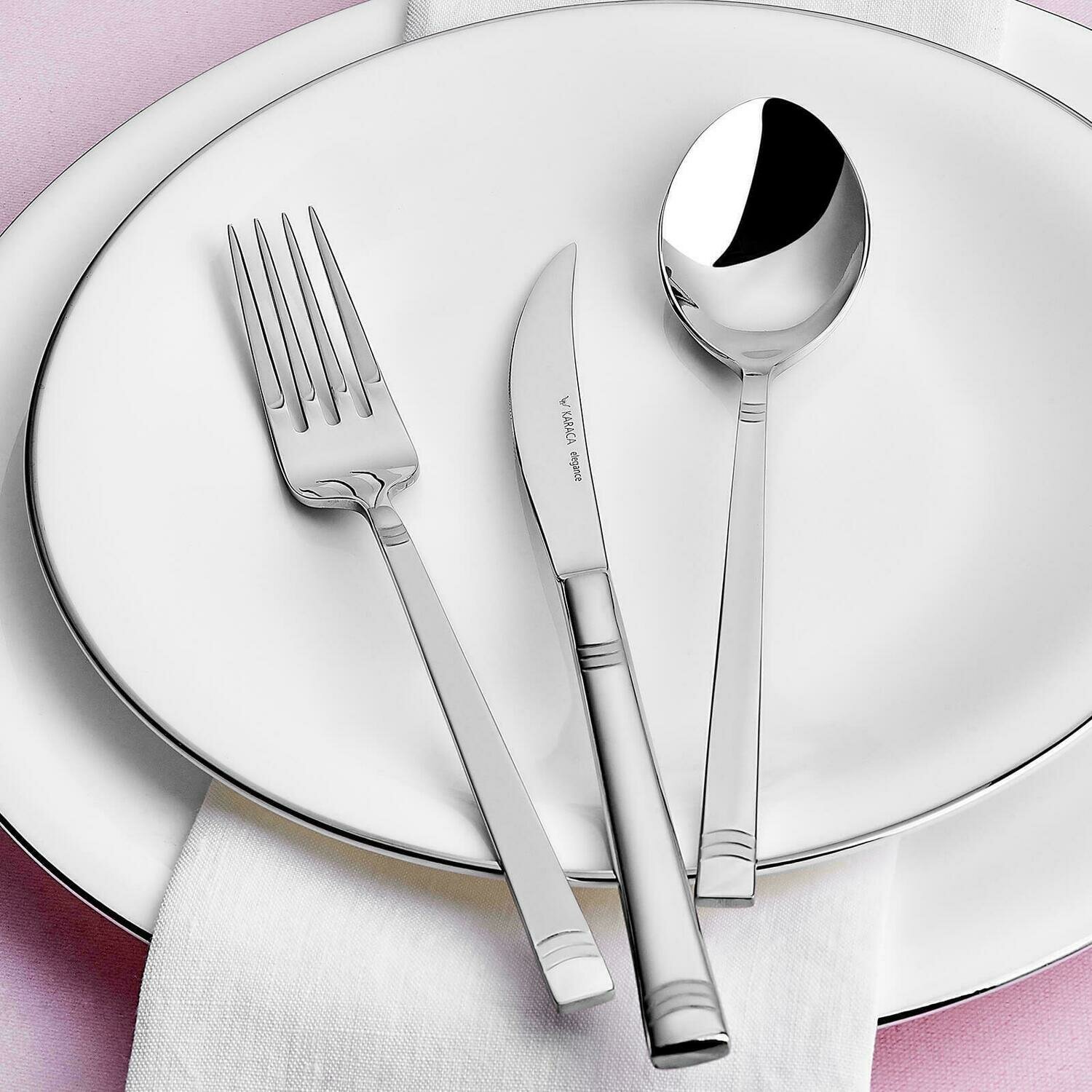 KRC CUTLERY D029 84 PIECES ELEGANCE WITH BOX
SKU 153.02.02.0185
Product Details
KRC CUTLERY D029 84 PIECES ELEGANCE KUTULU
"Karaca 84 Piece D-029 Boxed Cutlery is admired for its style. It is compatible with all kinds of dinnerware in terms of design. It has all the cutlery services required for dinner, dessert and tea. It has a silver colored, classic look. It is the transverse lines on the handle that adds modernity to the image.This special design to be compatible with both modern and classic dining sets looks extremely pleasing to the eye.If you are going to use it only for your guests, you can keep the set for 12 people in its box closed. Similarly, you can keep it in its box as a dowry for a long time. You can review our entire "Tableware Group" category for other quality and different design dining table products of the Karaca brand. "
Karaca 84 Pieces D-029 Boxed Cutlery
12 Tablespoons
12 Pieces of Dinner Fork
12 Pieces Dinner Knife
12 Dessert Spoons
12 Dessert Fork
12 Dessert Knives
12 Teaspoons
Color: Silver + gold
12 Person
Material: 18/10 Stainless Steel
Can it be washed in the dishwasher? Yes
- Since the product contains steel, it keeps its sharpness for a long time.
- Very large cutlery set
- Chest included
"Karaca 84 Parça D-029 Kutulu Çatal Bıçak Takımı, tarzı ile
beğeni kazanıyor. Her tür yemek takımı ile desen yönünden uyumludur.
Yemek, tatlı ve çay servisi için gereken çatal kaşık bıçak servislerinin
tamamına sahiptir. Gümüş renkli, klasik bir görüntüsü vardır. Bu
görüntüye modernlik katan sap kısmında yer alan enlemesine çizgilerdir.
Hem modern, hem klasik yemek takımları ile uyumlu olması için özel bu
tasarımı, göze son derece hoş görünüyor. Özel kutusunda satışa sunulan
12 kişilik seti, sadece misafirleriniz için kullanacaksanız, kapalı
olarak kutusunda muhafaza edebilirsiniz. Benzer şekilde çeyizlik olarak
da uzun süre kutusunda saklayabilirsiniz. Karaca markasının diğer
kaliteli ve farklı tasarım yemek masası ürünleri için " Sofra Grubu" kategorimizin tamamını inceleyebilirsiniz."
Karaca 84 Parça D-029 Kutulu Çatal Bıçak Takımı
12 adet Yemek Kaşığı

12 adet Yemek Çatalı

12 adet Yemek Bıçağı

12 adet Tatlı Kaşığı

12 adet Tatlı Çatalı

12 adet Tatlı Bıçağı

12 adet Çay Kaşığı
Renk: Gümüş + altın

12 Kişilik

Malzeme: 18/10 Pazlanmaz Çelik

Bulaşık makinesinde yıkanabilirmi? Evet



- Ürün çelik içerikli olduğu için uzun süre keskinliğini korur.

- Çok geniş çatal-bıçak-kaşık seti

- Sandık dahil
Save this product for later