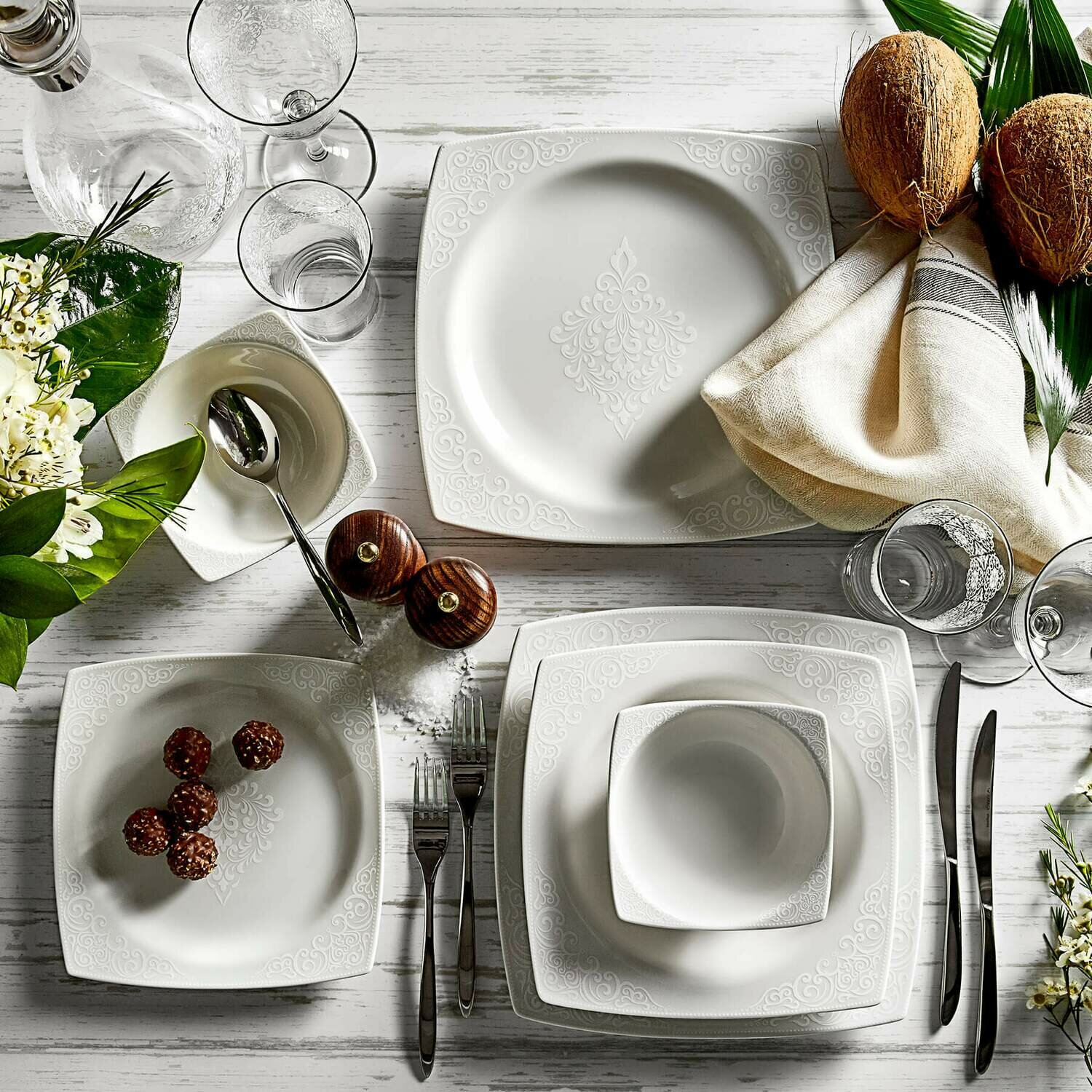 KARACA LADY 6 PERSON Dinner set SQUARE Dinnerware set
SKU 153.03.07.7675
Product Details
KARACA LADY 6 PERSON Dinner set SQUARE
"Karaca, one of the first names that comes to mind when it comes to porcelain dinner set, is appreciated for its unique designs. Among these special designs, Karaca Lady 6-Person Dinner Set Kare is also preferred as a dowry set.
Porcelain elegance is another thing in dinner sets. The unique bright white color of the porcelain and the patterns embroidered on this color add the Lady dinner set among the dowry choices. It can be used on all dining tables with its special pattern and square design similar to dowry lace embroidery. It preserves the heat of the food in it and prevents it from cooling immediately. Thus, it allows it to be served hot. In addition to this special set, which is preferred for its appearance and usefulness, you can also examine the 6-Person Cutlery Sets and you can see the same quality in cutlery sets. "
Karaca Lady 6-Person Dinner Set Square
Set Content
6 Serving Plates-26.8 X 26.8 X 2.3 cm
6 Pieces Deep Plates-23.1 X 23.1 X 3.4 cm
6 Pieces Cake Plate-21.2 X 21.2 X 2 cm
6 Bowls - 13.8 X 13.8 X 5.3 cm
Material: Porcelain
- Not suitable for use in dishwasher and microwave ovens.
"Porselen yemek takımı denilince akla gelen ilk isimlerden
olan Karaca, kendine has tasarımları ile beğeni kazanıyor. Bu özel
tasarımlar arasında bulunan Karaca Lady 6 Kişilik Yemek Takımı Kare,
çeyizlik set olarak da sıkça tercih ediliyor.




Yemek takımlarında porselen şıklığı bir başka oluyor. Porselenin kendine
özgü parlak beyaz rengi ve bu renk üzerine işlenen desenler Lady yemek
takımını çeyizlik seçimler arasına katıyor. Çeyizlik dantel işlemelerine
benzeyen özel deseni ve kare tasarımı ile tüm yemek masalarında
kullanılabilir. İçine konulan yemeklerin ısılarını korur, hemen
soğumasını engeller. Böylece sıcak olarak servis yapılmasına olanak
tanır. Hem görüntüsü, hem kullanışlılığı ile tercih edilen bu özel sete
ek olarak 6 Kişilik Çatal Kaşık Bıçak takımlarını da inceleyebilir, aynı kaliteyi çatal kaşık bıçak takımlarında da görebilirsiniz.
"
Karaca Lady 6 Kişilik Yemek Takımı Kare
Set İçeriği
6 Adet Servis Tabak-26.8 X 26.8 X 2.3 cm

6 Adet Çukur Tabak-23.1 X 23.1 X 3.4 cm

6 Adet Pasta Tabak-21.2 X 21.2 X 2 cm

6 Adet Kase-13.8 X 13.8 X 5.3 cm
Malzeme: Porselen
- Bulaşık makinası ve mikrodalga fırında kullanıma uygun değildir.
Save this product for later